Southern Pipeline steel pipe success TIANYI MILL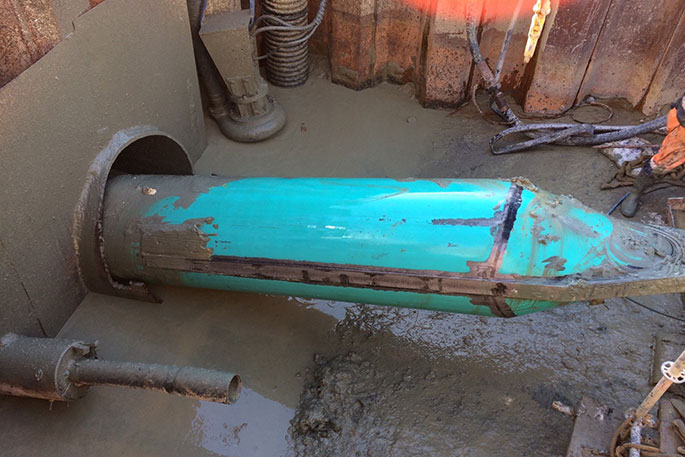 Another milestone has been reached in the Southern Pipeline harbour crossing project, with 1.6km of steel pipe successfully being pulled the full distance under the harbour, surfacing at Matapihi.
Tauranga City Council project manager Howard Severinsen says it's a major milestone for the project.
"Having the steel pipe successfully installed means we've secured a path across the harbour."
The pipe was successfully installed at 3pm on Saturday.
"We no longer need to rely on drilling mud to hold open the drilled hole. The next task will be to winch through a smaller polyethylene pipe that will eventually carry the wastewater."
Howard says this phase of the project was not without its challenges.
"Contractors began installing the steel pipe under the harbour on Friday 20 July. The first part of the operation went smoothly, but on day four then there was some difficulty getting the steel pipe through the last 40 metres.
"Water was being pumped into the pipe to keep it stable as it moved through the drilling mud. At the point where it needed to be guided through a protective steel casing at Matapihi, the pipe was sitting too low. The end of the pipe was at an angle too steep to be pulled into the casing."
To remedy this issue, air was introduced through to the end of the pipe, making it more buoyant so that it shifted upwards and was at a better angle to fit into the outer steel sleeve.
Howard says the contractors Brian Perry Civil resumed 24-hour work over the weekend to complete the steel pipe installation.
"It's shown an impressive level of innovation and determination to keep moving through these hurdles and to reach this point of the project. There were a lot of relieved faces on the site on Saturday afternoon."
Once connected, the pipeline and pump stations are expected to be tested and commissioned by December 2018.