Fire Sprinkler Pipe and Fittings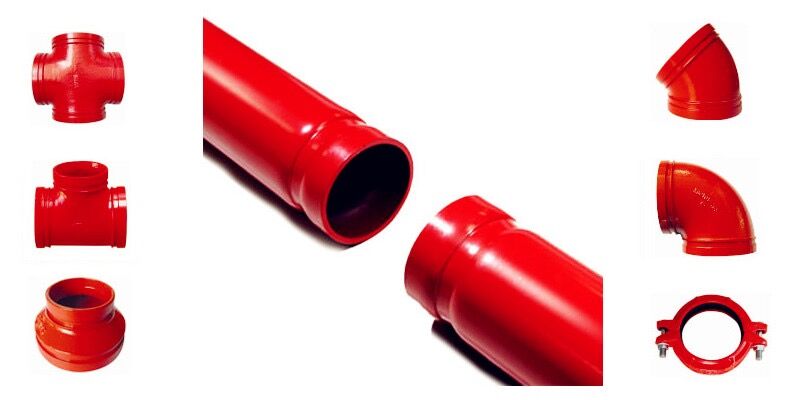 Fire sprinkler pipe material types
Mainly material of fire pipe as below:
Carbon steel
Ductile iron
Stainless steel
Alloy steel
Composite or plastic pipe
Galvanized pipe
Coatings:
Epoxy coating
Zinc coating (Usually with thin thickness steel pipe)
Galvanized fire pipe could be used in dry and wet fire pipe conditions.
Fire pipe technical parameters
Coatings: Adjustable heavy epoxy coating system
General surface color: Red
Coating thickness: 250 um to 550 um.
Size range: DN15 to DN1200
Working temperature: -30℃ to 80℃ (Up top 760)
General working pressure: 0.1 Mpa to 0.25 Mpa
Connection types: Threaded, Grooved, Flanged
Applications: Water, gas, firefighting bubble transmission and supply
Connection types for different DN fire pipes
Threaded and coupling connection: Below DN100
Grooved and clamp connection: DN50 to DN300
Flange connect: Above DN50
Welded: Above DN100
In case fire pipe installed sub ground, welding is the strongest option, which could use double metal weld and damage free, in this way to prevent the problems that caused by epoxy coating damages or the pipeline cracks from geological subsidence.
Features of epoxy coated fire pipe
Fire pipe that with internal and external epoxy coating, is using the modified heavy epoxy powder, which has good chemical corrosive resistance. In this way to solve the problems like surface rusty, corrosive, internal scaling and etc, and to prevent from blocking, prominently increasing the durability of the fire sprinkler pipe.
On the other hand, flame proof material has been added in the coatings, to make fire sprinkler pipe heat resistance better than other types of pipe. So even the working temperature is increasing rapidly it will not affect the performance of the fire pipe.
Therefore, fire sprinkler pipe that with internal and external epoxy coating, that is much better than galvanized pipe on the durability and performances.
Determining the right connection for fire sprinkler pipes
As we know there are four connection types to connect fire pipe or fittings. Which are: grooved connection, flange connection, butt weld connection and threaded connection.
Why to use fire sprinkler pipe fittings
Only the connection pipe fittings that complied with the right standards should be used in the event of any pipe diameter change in the fire pipe systems.
When to use butt weld connection type for fire pipe
In case the fire sprinkler pipe internal without coating anti-corrosive coating, butt welding connection type could be used. However, you have to make sure the welding works should be done according related standard and conditions.
On the other hand, in case the fire sprinkler pipe material in hot dip galvanized, butt welding should not be applied.
On no account should an automatic sprinkler system pipe be welded, instead it should be threaded, flanged or connected through other ways.
When to use groove connection or flange connection type for fire pipe
In fire pipeline water supply systems, if the pipe material in galvanized steel and diameter more than 100 mm, then the connection type should be groove connection or flange connection. However, if the pipe diameter is greater than 100 mm, it is not stated in the automatic sprinkler system that threaded connection cannot be used. The specification remains that flange or groove connection shall only be used at a certain distance on the pipe with a diameter more than 100 mm.
What is groove (clamp) connection type for fire pipeline systems
Fire pipe groove connection also called the clamp connection, it is the most suggested connection type for liquid pipeline or gas pipeline, especially in fire sprinkler pipe systems. The process is to make a groove on the pipe end, without any damage for the pipe internal wall, which is a good advantage for this connection technology.
On the same hand, if use weld connects or flange connects, for the pipe with internal coatings that will be damaged, which is not good and will bring a future treatment to fix the internal damage.
Diameters and pressures for groove joint of fire pipe
The fire steel pipe groove depth and the pipe joint (groove connection) must conform to the requirements of the groove type pipe joint. For groove pipe joint with a nominal diameter of DN250 or less, the maximum working pressure is 2.5 MPa, while for the pipe joint with a nominal diameter of DN300 or more, the maximum working pressure is 1.6 MPa.
For vibration places and fire protection proof pipe that is buried, flexible joints are the best match; for other places, rigid joint fittings should be used. In the event where the rigid joint fittings are used, then a flexible joint must be arranged for every four to five rigid joints.
When to use threaded connection
In fire sprinkler pipe system, the hot-dip galvanized pipe could be used, either manufactured in ERW or Seamless type. The galvanized fire sprinkler pipe with an inner and outer wall diameter of less than 100 mm, thread connection can be used.
Likewise, if the galvanized fire pipe in ERW, malleable iron threaded pipe fittings are fitted. For hot-dip galvanized seamless steel pipe, forged steel thread pipe fittings are used. The forged steel thread pipe fittings are suitable for a wall thickness of steel pipe less than Schedule 30 (Pipe Dia below 8 inch) or less than the Schedule 40 (Pipe Dia above 8 inch).
How to seal for threaded connection fire pipe
The threaded interface can be sealed with PTFE once the fire sprinkler pipe adopts 550 degrees. For 600 degrees, taper pipe threads (NPT) is the appropriate sealant for the sealing. And the sealing strap will be applied to the main thread.
No threaded union will be used for the fire pipe with a diameter less than DN50, while for variable pipe diameters, the monomer reducing joint shall be used.
When to use flange joint connection fittings
Flange connection fire pipe can be further divided into many forms: Flat welding flange, welded flange and threaded flange, and others. The selected flange must comply with the standards of steel pipe flanges, steel but welded seamless pipe fittings, Teflon coated gaskets for pipe flanges standard.
In case flange connection is adopted for zinc coated fire sprinkler pipe, then the threaded flange shall be used. In case fire sprinkler pipe coated with anti-corrosive layers, welded flange connection shall be applied.
Fire Sprinkler Pipe Fittings types
Fire sprinkler pipe fittings types similar to the general pipelines. In regards to applications: There are Elbow, Tee, Reducing Tee, Cross, Caps, Union, Clamps etc. In regards to materials there are carbon, alloy, stainless, (Could be coated red paint, epoxy coated, zinc coated etc) In regards to connection types, it is same as pipe connection types, as we talked grooved, flanged, butt weld, thread, socket weld.
Here we will introduce grooved fittings as the 1st option in fire sprinkler pipe systems.
Grooved Fittings: Elbow, Tee, Cross, Reducer, Cap
To connect standpipe to control fire pipeline, distribute pipeline, or support in different sizes and different directions, grooved fittings are the best in the fire sprinkler pipe fittings. By using groove connection, the project time is shorter with faster installations and easier maintenance.
You can find the following UL listed or FM approved on Octal.
• Grooved Reducer: reducer with thread
• Grooved Cap: cap with concentric hole
• Grooved Elbow: 90° elbow, 45° elbow, 22.5° elbow
• Grooved Tee: equal tee, unequal tee, reducer tee, unequal tee with thread
• Grooved Tire: Y connects, equal cross
Grooved Coupling
There are three parts in a ductile iron grooved coupling including housing, gasket, and track head bolts and nuts. Which are used a lot in fire sprinkler pipelines. The grooves of standpipe ends are engaged by the housing, by encompassing the gasket, the housing forms a sealed chamber, with bolts and nuts tightened. This arrangement creates a leak-tight structure of a self-restrained pipe joint.
It is important to get a quality fire sprinkler pipe
In a word, with the development of industrial and economic, fire sprinkler pipe and fittings are used widely in almost all kinds industries and company, not to mention how important they are to people's daily life. So it shall be get most attention on choosing a quality products to make the safe under control.
Octal provides fire sprinkler pipe and fittings, products approved by UL and FM. If you have any requirements or any doubts we can be helped, just contact us.