Large Diameter Steel Pipe – Things You Must Know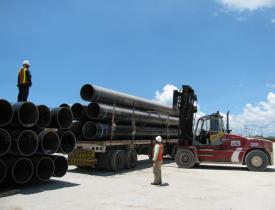 When we talking about large diameters pipe, It usually refers to the pipe in welded like LSAW pipe or SSAW pipe; More over, it also includes large diameter seamless pipe in some circumstances.
It shall be noted that for a high pressure pipeline large diameter seamless pipe is preferred. Since in welded type it is not expected as seamless types to bear the big pressure (the weakest point of the welded pipe is the welded seam on it). The welded seam can break or crack at anytime hence, people are looking for seamless large pipes for various things.
Large diameters refer to pipe above 457 mm (16 inch) and 508 mm (20 inch)
As we know maximum diameters for ERW pipe usually is 457 mm 16 inch, so we can say the pipe diameters is larger than this OD are known to be large diameters pipes.
For LSAW and SSAW large steel pipe: From 508 mm 20 inch to 2540 mm 100 inch.
For large diameter seamless pipe also refer to the pipe that more than 16 inch or 20 inch. Since the pipe larger than these sizes, will not be manufactured only by hot rolling, an additional process hot expanding will be applied. This way could enlarge the pipe diameters in a short time, with low cost and high efficiency, therefor it has became a modern way of manufacturing large seamless pipes.
Hot expanding
Hot expanding process also known by thermal expansion process. It is to heat the pipe into a near transformation temperature, use corner skew rolling method or hot drawing method to expand seamless pipe diameters.
Notes before purchase large diameter seamless pipe
If you do not have ideas about the large diameter seamless pipe then it is very hard to buy one with good quality. Therefore, it is very important to know about it before purchasing.
1. Must not have seam on pipe body.
The seamless pipe must not have weld seam (some people remove the seam in an undetectable way and be careful of this). Large diameter seamless pipe shall be constructed in a specific process. Raw material should be a solid and round billet. Then, the billet is heated at a very high temperature but one should be careful while doing so because if the temperature rises to melting point then billet may melt. The billet after heating is stretched and pulled over until it takes the shape of a hollow tube. As the welded pipes are conventional, your contractor may suggest you to buy the welded ones but you have to be very careful and choose the seamless large pipe.
2. Roundness shall be noted
The next thing is the uniformity of shape of the seamless pipe. As the welded seam pipes are wrapped around another form before welding and as welding needs stress, heat and other external variables for the whole process of forming, it is very tough to get a welded pipe that is exactly round in shape. The seamless steel pipe is the continuous extrusion of alloy which signifies that you will just a get a round cross section that is necessary when you are using them for any construction process or installing pipes.
3. Large Seamless pipe bear big pressure than large welded pipe
The strength of the seamless pipe is more than the welded pipes. Well, you might find it quite expensive but, trust our examination; this is more reliable even under pressure. The welded pipes have the chance to break when in pressure but you can trust the large diameter seamless pipe without any doubt. The empty pipes always support of its own weight but when the pipe is filled with material or under load, it also supports the weight as well. Mostly leaks and pipe failures occur in case of the welded pipes. The seamless pipes does not have the seam hence, there is no chance of pipe failure.
4. Big diameter seamless pipe can working in harsh conditions
One of the best attributes of the seamless large pipes is that, it has the capability to work under extremely cold or extremely hot environment whereas, it is quite impossible for the welded pipes to work in extremely harsh condition.
Cost differences for large diameter pipes in different types
Large seamless pipes after hot expanding, the price is lower than normal hot rolled seamless pipe, (steel density reduced). But is higher than large welded pipes like SSAW and LSAW pipe.
Though the price of the large diameter seamless pipe is bit higher than the welded ones but the increasing ability and benefits are making it appropriate for any usage. In the array of commercial application of pipes, the importance of the seamless large pipes are increasing including pipelines oil rigs, building of ships, offshore rigs, machinery parts, pressure vessels, parts of machineries, equipment of oil field etc.